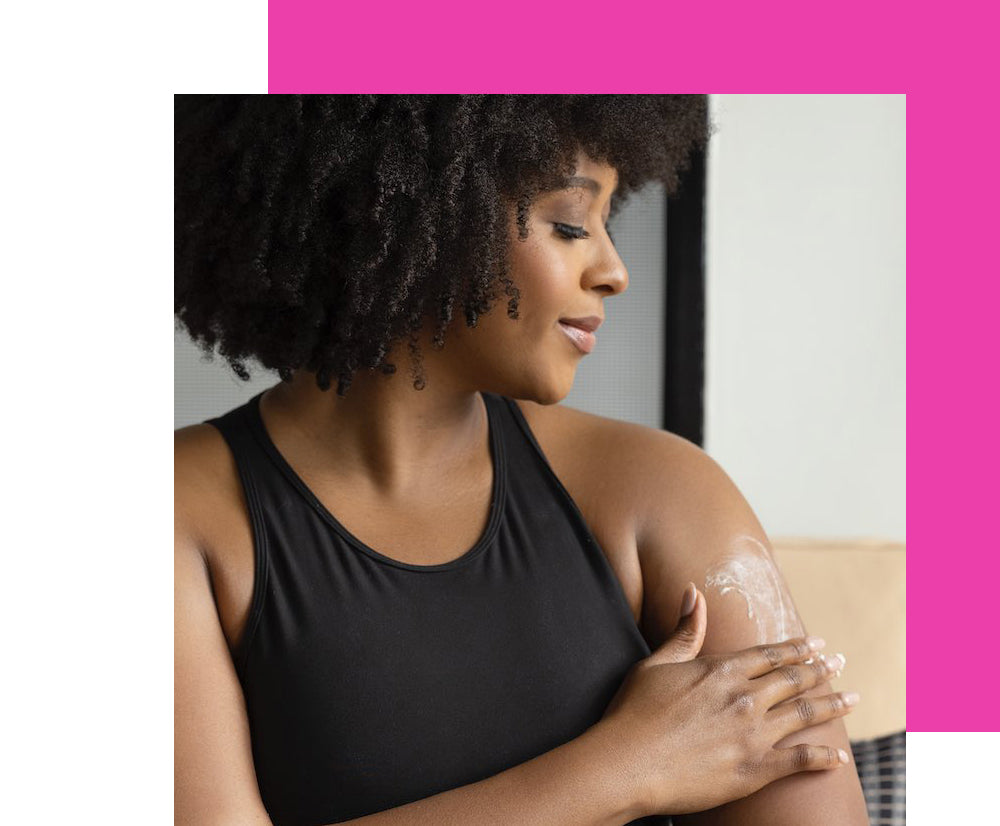 Why Choose BKLYN Body?
OUR WONDER INGREDIENT
Our skincare is based on Shea Butter, a skin superfood that comes from the seeds of the fruit of the Shea (Karite) tree. Shea Butter is naturally rich in vitamins A, E, and F, and offers UV protection (SPF of about 6 [1]), providing your skin with essential fatty acids and nutrients necessary for collagen production.
Moisturizing: The concentration of natural vitamins and fatty acids in Shea Butter makes it incredibly nourishing and moisturizing for skin. It is often used to remedy dry skin and to help protect your skin's natural oils.


Reduces Inflammation: A 2018 study [2] found that due to its Cinnamic Acid and other natural properties, Shea Butter acts as an anti-inflammatory. One compound in particular, Lupeol Cinnamate, was found to reduce skin inflammation, and may potentially help to avoid skin mutations. This also makes it beneficial for some people with acne.


Skin Smoothing: Shea Butter aids in the skin's natural collagen production, and contains Oleic, Stearic, Palmitic, and Linolenic Acids that protect and nourish the skin to prevent drying. With long-term use, many people report skin softening and strengthening as well as wrinkle reduction.
What Actual Customers Are Saying
Kate, W. Virginia

Customer service was excellent in assuring my order was exactly what I needed. The items were exactly as ordered. It was perfect.
Thank you.


★★★★★

Kailin, Michigan

Being a person who has always struggled with dry skin, testing all products out on the market, I decided to order some Brooklyn Body Butter. From the moment I received my package, I fell in love with the long-lasting moisture. I will never buy lotion or coconut oil again, so I will forever be a customer. Thank you for such an amazing product!


★★★★★

Ashlee, Texas

My boyfriend never wanted to use lotion, LOL. After trying Brooklyn Body Butter myself, I took it upon myself to get him a jar of the Man Butter. He absolutely loves it! I thought he was a lost cause, but Brooklyn Body Butter has him smelling good and looking good!


★★★★★